Sunies Sandal Description:
The design of Sunies® sandals was created to adjust the feet with different weather conditions, extremely flexible and no sweatiness, smells good and feels good, in addition they are easy to take on an off. These are the perfect summer shoes 2021 from sunies sneaker brands. 
Enjoy you Sunies shoes every day at, any time of the day and in any Sunies colour you might find most fitting to you lovely summer dresses or outfits.
Completely waterproof, with a textured sole to prevent slips and accidents, not to mention the enjoyable experience and stunning design.
Driven by the idea of loving our planet and animals, Sunies takes the responsibility of promoting sustainability: from developing, to production, and lastly to disposal.
Sunies® are made with 77% natural resources that include a recyclable Vinyl Flex.
The innersole was designed to enhance comfort with a unique EVA-Foam.
Have a look at our sneaker brands environmental cycle, which is important to unterstand our 100% commitment towards the environment and future   
of the planet. We would love to have our future generations the enjoy the beaches  the same way we are doing right now.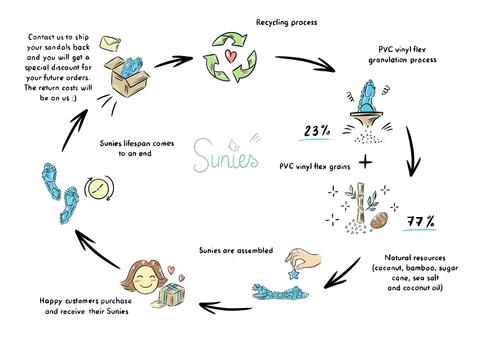 Sneaker Brands SUMMER SHOES 2021  
Size recommendation: We would recommend you to order a size up.
In case you have any doubt you can contact our Sunies Shoes them any time, and we will be happy to help you.
 EU
UK
US
BRA
JP
AU
CM
36
3.5
6
34
22
5
 
22
37
4
 
6,5
 
35
22,5
5,5
 
22,5
38
5
 
7,5
 
36
23,5
6
 
24,5
39
6
 
8,5
 
37
24,5
7
 
25,1
40
7
 
9,5
 
38
25
 
7,5
 
25,8
 
41
8
 
10
39
25,5
 
8
 
26,1
 
42
9
 
11
40
26
8,5
 
26,5
 
Sunies Shoes Sizing Information
When ordering Sunies shoes online, is hard to get the right size straight away.
We recommend to check our shoe size table for guidance.
 EU
UK
US
BRA
JP
AU
CM
36
3.5
6
34
22
5
 
22
37
4
 
6,5
 
35
22,5
5,5
 
22,5
38
5
 
7,5
 
36
23,5
6
 
24,5
39
6
 
8,5
 
37
24,5
7
 
25,1
40
7
 
9,5
 
38
25
 
7,5
 
25,8
 
41
8
 
10
39
25,5
 
8
 
26,1
 
42
9
 
11
40
26
8,5
 
26,5
 
Returns Policy
Full-priced items are eligible for exchange and return within fourteen (14) days of being received.
Contact our
customer service at support@sunies.eu
and let us know the reason you want to exchange or return.
We unfortunately can't provide any pre-printed return labels since the customer is liable for the return costs in our website.
Products must be returned in the condition they were received in their original box.
Due to high demand during sales periods, please allow up to 10 working days for the return to come back to us and then a further 10 working days for the return to be processed before contacting us. We apologise for any inconvenience caused.
Shipping
Pellentesque ultrices ut sem sit amet lacinia. Sed nisi dui, ultrices ut turpis pulvinar. Sed fringilla ex eget lorem consectetur, consectetur blandit lacus varius. Duis vel scelerisque elit, et vestibulum metus. Integer sit amet tincidunt tortor. Ut lacinia ullamcorper massa, a fermentum arcu vehicula ut. Ut efficitur faucibus dui Nullam tristique dolor eget turpis consequat varius. Quisque a interdum augue. Nam ut nibh mauris.
Love love love!
Ich liebe diese Schuhe! Sie sind bequem und super schick. Ich musste Sie nochmal eine Nummer größer nachbestellen und muss sagen, der Kundenservice ist einsame Spitze! Der Sommer kann kommen :)
Happy
I am so happy!!!
Bin bald auf Teneriffa, und kann sie dort perfekt brauchen. Durch den guten Sitz, und das bequeme Material ist es der perfekte Schuh, wenn man viel auf den Beinen ist.
So happy <3
Super awesome shoes and the best customer service ever !! Thank you dear Sunies <3
Sunies Sea & Ocean Black
Ich war zwar auf der Suche nach schwarzen Sommersandalen für den Urlaub, aber meiner Meinung nach funktionieren die Sunies Sea am in den tollen knalligen Farben am Besten. Sie erinnern im positivsten Sinn an die Farben von Strabdspielzeug und machen wirklich gute Laune.
Love them
I bought two pairs. One to leave at work & one for home. They are so comfortable. At work I have to have closed shows with only a peep toe. That's fine until it's warm outside. They allow my feet to breathe.
I am going to buy a 3rd pair in another color. They do look cool, they work for work and they are great as a summer sandal for somewhere nice. I wouldn't if my feet were hurting that day. Please make a glitter jelly in this shoe w the all the colors. I would LOVE IT.
Recently Viewed Products
You can stop autoplay, increase/decrease aniamtion speed and number of grid to show and products from store admin.